Questions about Credit Repair Plus? Our History? The team serving you? Why is Credit Repair Plus the best in the industry for you to repair your credit? Below you'll find quick answers to many of the popular questions in this area. You may also ask a question if it's not addressed below.
Can I consult with someone at Credit Repair Plus before I decide to sign-up?
Absolutely! We encourage you to call or email one of our professional credit analysts for a FREE Credit Consultation and ask any questions that may help you in determining the best solution for your credit needs. Call 718-475-2087 to talk to someone now. You can fill out the Free Consultation form and one of our Case Analysts will contact you. You can also email any questions that you have to info@SAVEMYCREDITREPORT.com to learn more about your credit report repair options.
Why should I choose Credit Repair Plus Services instead of another credit repair company?
We Get Results. We have the BEST customer service in the industry, and we educate our clients on optimizing and building their credit for the future. These are just a few factors that set us apart from our competitors. Credit Repair Plus prides itself on our superior customer service, our utmost respect for clients and our Personal Case Advisors that work one on one with each of their clients. At Credit Repair Plus we utilize the newest technology and proven techniques to ensure successful removal of inaccurate credit report information for our clients. Credit Repair Plus provides the following advantages: Your case is reviewed by your Personal Case Advisor who is well educated in credit repair techniques. Your Advisor will work with you each month to make sure your case is moving towards your credit repair goals. We have direct access to TransUnion, Equifax and Experian which will allow us to get you results faster. We stay current on consumer law as it pertains to credit repair and credit bureaus to make sure that our clients receive the best possible results. Unlike other credit repair companies, your privacy and confidentiality (especially with regard to your social security number, credit card number and credit report information) are protected with Credit Repair Plus. Our Customer Service Guarantee is effective from day one. You do not have to be a client for any particular amount of time before you are protected by our guarantee.
Can I repair my own credit report?
Yes. Depending on your time, patience, perseverance, and complexity of your dispute, you can successfully dispute inaccurate credit report items on your own. However, credit bureaus' strategies and tactics can make the process time consuming, overly burdensome and ineffective for the consumer. Disputing items is not difficult; getting results is. When it involves your personal credit, you simply cannot afford to waste time with experimenting unproven tactics. You run the risk of jeopardizing your credit, rendering it irreparable. Credit repair is best left to the professionals that specialize in doing it day in and day out.
How are credit scores affected during the repair process?
Credit Repair Plus focuses on removing inaccurate, misleading and unverifiable information from your credit profile. As Credit Repair Plus is engaged in the dispute process with the credit bureaus, your score may change periodically, especially since 35% of your score is based on your entire credit history. Since we are working to correct negative items within your credit history, this is likely to have a positive effect on your scores! When disputing 'negative' information on your credit report, the credit bureaus will remove the item(s) in question until it is verified, modified, or deleted. Since we are disputing primarily 'negative' items on your report, your score may increase during the process because the negative item is temporarily removed until the investigation is over. This temporary score is not necessarily an indicator of your final credit score. (Disputing personal information such as an incorrect address or date of birth will not typically affect your credit score.) Upon completion of the dispute process, your credit report will then show the new score. Keep in mind that each credit bureau has different criteria for determining your score, which is why your score varies from bureau to bureau.
Should I file bankruptcy?
We cannot advise you whether or not you should file bankruptcy. If you are considering bankruptcy, it is always in your best interest to get as much information about bankruptcy as possible, and consult with a local bankruptcy attorney.
Should I pay off my credit accounts?
In regards to open account credit card balances, it is always advisable to maintain your balances as low as possible, zero is optimum. However when faced with collections and charge-off accounts, it is not so straightforward. It is advisable to consult a credit expert before making any rash decisions.
What is the difference between a Settlement and a Charge Off?
A charge off is a credit account that you did not pay and then the creditor wrote the account off as a loss. A settlement is an account that went past due, maybe even charged off, and then you negotiate a pay off amount that is less than the full balance due. Once you pay that negotiated amount in full then the account reports as a settlement. Credit bureaus sometimes 'generalize' and will argue that 'Settlements' and 'Charge Off' are the same, when in fact, they are not. It is up to us to insist they investigate these items and change the incorrect information, or if they cannot verify the information within 30 days, then they need to delete the item. This is one of your rights under the Fair Credit Reporting Act.
What makes up my credit score?
Credit scores are used by creditors to measure the 'risk factor' of a consumer who is applying for a loan or credit line. The credit score was put in place to reflect the financial responsibility of a consumer, through past and present credit use. Creditors use the score to 'predict' how a consumer will treat their potential financial obligation.
As a 'snapshot' of your financial history, your credit report is essentially your 'financial fingerprint' and contains information that can be grouped into the five categories:
Payment History – 35% (This is what Credit Repair Plus works on)
Amount Owed/Debt Ratio – 30%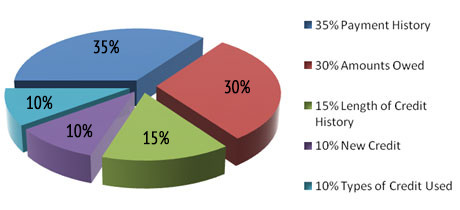 Length of Credit History – 15%
New Credit/Inquiries – 10%
Types of Credit in Use – 10%
Should I close my paid-off accounts?
When reviewing your credit to decide if you should keep an account open or closed you need to consider its affect on your credit score. As a general rule, it is unwise to close any accounts which are in good standing, doing so will have a negative toll on the credit scores. It is advisable to only have about 3-5 open credit cards if you decide to close some of them you will want to close the accounts that were most recently opened. Older accounts have more payment history and closing them will result in a lower credit score.
Another rule to keep in mind about when having credit card balances above 30 percent of the credit limit will negatively affects your credit score, so try to keep your balances below a third of your credit limit for that account.
What are inquiries?
Credit inquiries are records created when someone looks at your credit information. Credit inquiries are either "hard inquiries", as when a business views your credit report in connection with an application for credit, or "soft inquiries" when your credit is checked for most other reasons.
Credit Repair Plus may be able to remove unauthorized credit inquiries to reduce the impact to your credit score.
Each hard inquiry on your report can drop your credit score any where from 2-5 points. The inquiries on your credit report will remain for two years but only affect your credit score for one year.
When I request my report does it count as an 'Inquiry'?
You may request your report as often as you choose – without affecting your score. You have the right to view your reports as often as you like with no penalty against you. However, 'inquiries' on your credit report from potential creditors, businesses or employers do count as an inquiry and affect your credit score. Our goal is to improve your overall score and eliminate credit report errors.
Who are the main credit bureaus?
The three main credit bureaus are: Equifax, Experian, and TransUnion. The credit bureaus gather, store, and sell information about consumer's credit histories to help establish a consumer's credit worthiness. The credit bureaus are private for-profit companies that gather the information about consumers and then sell it to businesses that are legally permitted to see your credit report. For more information about the three credit bureaus please visit their websites at:
www.TransUnion.com
,
www.Experian.com
, and
www.Equifax.com
.
What is a debt management plan?
If your financial problems stem from too much debt or your inability to repay your debts, a credit counseling agency may recommend that you enroll in a debt management plan (DMP). A DMP alone is not credit counseling, and DMPs are not for everyone. You should sign-up for one of these plans only after a certified credit counselor has spent time thoroughly reviewing your financial situation, and has offered you customized advice on managing your money. Even if a DMP is appropriate for you, a reputable credit counseling organization still can help you create a budget and teach you money management skills.
In a DMP, you deposit money each month with the credit counseling organization, which uses your deposits to pay your unsecured debts, like your credit card bills, student loans, and medical bills, according to a payment schedule the counselor develops with you and your creditors. Your creditors may agree to lower your interest rates or waive certain fees, but check with all your creditors to be sure they offer the concessions that a credit counseling organization describes to you. A successful DMP requires you to make regular, timely payments, and could take 48 months or more to complete. Ask the credit counselor to estimate how long it will take for you to complete the plan. You may have to agree not to apply for – or use – any additional credit while you're participating in the plan.
Please keep in mind when considering this option that all accounts included in this plan will be negatively impacted on your credit report.
What is an initial fraud alert?
An initial alert stays on your credit report for at least 90 days. You may ask that an initial fraud alert be placed on your credit report if you suspect you have been, or are about to be, a victim of identity theft. An initial alert is appropriate if your wallet has been stolen or if you've been taken in by a "phishing" scam. When you place an initial fraud alert on your credit report, you're entitled to one free credit report from each of the three nationwide consumer reporting companies.
What is an extended fraud alert?
An extended alert stays on your credit report for up to seven years. You can have an extended alert placed on your credit report if you've been a victim of identity theft and you provide the consumer reporting company with an "identity theft report." When you place an extended alert on your credit report, you're entitled to two free credit reports within twelve months from each of the three nationwide consumer reporting companies. In addition, the consumer reporting companies will remove your name from marketing lists for pre-screened credit offers for five years unless you ask them to put your name back on the list before then.
To place either of these alerts on your credit report or to have them removed, you will be required to provide appropriate proof of your identity: that may include your Social Security number, name, address and other personal information requested by the consumer reporting company.
When a business sees the alert on your credit report, they must verify your identity before issuing you credit. As part of this verification process, the business may try to contact you directly. This may cause some delays if you're trying to obtain credit. To compensate for possible delays, you may wish to include a cell phone number, where you can be reached easily, in your alert. Remember to keep all contact information in your alert current.
How do I initiate a fraud alert?
Fraud alerts can help prevent an identity thief from opening any more accounts in your name. Contact the toll-free fraud number of any of the three consumer reporting companies below to place a fraud alert on your credit report. You only need to contact one of the three bureaus to put on an alert. The bureau you call is required to contact the other two, which will place an alert on their versions of your report, too.
Equifax
1-800-525-6285
PO Box 740241, Atlanta, GA 30374-0241
Experian
1-888-EXPERIAN (397-3742)
PO Box 9532, Allen, TX 75013
TransUnion
1-800-680-7289
Fraud Victim Assistance Division
PO Box 6790, Fullerton, CA 92834-6790
Why would Credit Repair Plus's disputes succeed where mine failed?
Many individuals give up hope when faced with initial roadblocks in disputing information. Our experience (and dedication to our clients) in working with the credit bureaus facilitates the credit repair process because we are more likely to anticipate the tactics and responses of the credit bureau. Also, we have time and professional resources required to remain vigilent to get results for you. Members of our professional team have experience in interacting with the bureaus and creditors and have gained insight in regards to efficiently and effectively disputing credit report errors. We stay current on consumer credit laws and economic issues, and we utilize the newest technology and proven techniques to ensure successful removal of inaccurate credit report information for our clients.
How long has Credit Repair Plus been doing business?
Credit Repair Plus began offering specialized credit report repair services in 2004. Our staff and administrators have been involved in the credit industry for more than 10 years.
How does the Credit Repair Plus Guaranteed Refund Policy work?
We will refund you 100 percent of your moneyback if we fail to remove a minimum of 25 percent of negatives we work on from each of the three major credit bureaus within a 6-month timeline from the date you joined.
Yes, its that simple.
With an average success rate of 70%, our money back guarantee, and the best credit education in the business, hiring Credit Repair Plus is one of the wisest investments for your future you can make.
What if a friend or family member wants to sign-up too, can we get a discount?
Credit Repair Plus is proud to offer a 20% couples' discount for any two people that seek our services. Although you may not be related and you may not be a couple you still deserve a discount. So, sign-up for the couples' program and get our services at a discounted price. We will still set up two separate accounts, one for each of you to ensure the best service and results possible. Contact us if you would like to add a friend of family member.
Does Credit Repair Plus disclose personal information?
Credit Repair Plus will not share, sell, transfer or convey your personal information to any unaffiliated companies or third parties. Credit Repair Plus maintains strict confidence of your personal information. We even have strict policies for all Credit Repair Plus employees when it comes to sharing personal information internally, which is why you are assured a single point of contact with your Personal Case Advisor.
How long will it take to repair my credit report?
Our clients typically start seeing results in 30-45 days. Majority of the progress is usually established between 45-90 days. Because everyone's case is different, some cases are completed in that time, but the maximum amount of time for our clients is 6 to 8 months. It really depends on the type and number of items that need to be addressed in the credit profile. Successfully repairing credit requires persistence, patience and experience. This is where Credit Repair Plus expertise saves you valuable time. To effectively dispute incorrect information on your credit report, the key is knowing the 'valid disputes' and understanding the methods used by the credit bureaus in order to submit personalized disputes that meet their requirements and warrant a timely response. In addition, we offer a valuable time-saving service, known as the Fast Track Program, which can be applied to any of our custom programs to expedite your credit report repair process.
Can Credit Repair Plus remove bankruptcies from my credit report?
Every consumer's situation is different. If you have a bankruptcy on your credit report that you feel is inaccurate, misleading, incomplete, or unverifiable in some way then we can dispute it for you. As for getting it removed from your credit report that is not something we can promise or confirm. However, Credit Repair Plus Services has successfully removed bankruptcies from our clients' credit reports in the past.
Does Credit Repair Plus work with creditors?
To provide the best results for our clients, yes we interact with creditors. Our Program includes the creation and distribution of custom dispute letters to the three major credit bureaus: Equifax, Trans Union, and Experian. Once you mark the accounts you want disputed we also send letters to your creditors, disputing and/or requesting verification of the information listed on the credit reports. If they are unable to verify the information they are reporting then they are required by law to remove or update the information reporting.
Can Credit Repair Plus setup payment plans with creditors?
Credit Repair Plus is a credit report repair company, not a debt consolidation company. In certain situations however, we will negotiate on our clients behalf, if it means improving their credit.
Can I cancel anytime?
Yes. We require no long-term contracts. You can cancel at anytime.
Will Credit Repair Plus simply dispute all my negative items?
No! Federal Law requires that all disputes be submitted in good faith. When you become a client of Credit Repair Plus, you'll provide us with the necessary information about the items on your credit reports that qualify for a good faith dispute. We'll also consult with you directly. We compile that information and use it to create your custom dispute letters. We will dispute any item, positive or negative, that you review and mark for dispute. Not only is our process legal and in compliance with the FCRA, but it results in more efficient and effective disputing.
Several companies out there simply take your credit reports and generically dispute every negative item without any information from you regarding the legitimacy of the negative items. Not only is this process illegal, it is ineffective and results in an extremely high return of frivolous responses.
What is a frivolous dispute?
The Credit Bureaus (CRA – Credit Reporting Agencies) must investigate items in question unless they consider your dispute frivolous. A blanket dispute (i.e. all negative information is challenged) may be considered evidence that the dispute is frivolous, or if you fail to provide any allegations concerning specific items in your file. Frivolous disputing will unnecessarily increase the amount of time it takes to repair your credit profile and your overall success rate. This is common error made by inexperienced credit repair consultants who simply dispute all negative items or most of your credit items on your credit report at one time without any specific basis for the dispute.
Does Credit Repair Plus provide my credit report?
Unless you have already obtained a recent credit report, Credit Repair Plus will be able to obtain a credit report from all three major reporting bureaus and supply you with a copy, for your records.
How do I order my credit reports?
There are several websites from which you can order your credit reports. The most efficient way to get us your reports is to order them online and email them to us as an attachment, preferably as a .PDF, or you can fax a copy to us or physically mail copies of them to us. If you have difficulty, contact us and we will assist you in getting your reports downloaded and sent to us. A recent amendment to the federal Fair Credit Reporting Act (FCRA) requires each of the nationwide consumer reporting companies to provide you with a free copy of your credit report, at your request, once every 12 months, you can get those reports at
www.AnnualCreditReport.com
. You can also order your credit reports from the credit bureaus directly at
www.TransUnion.com
,
www.Experian.com
, and
www.Equifax.com
How do I send you my credit reports and updates?
Before you send us any documents, remember to make a copy of them for your records. Credit Repair Plus makes it as easy as possible for you to submit your credit reports and documentation to us. You can fax them to us. You can mail them to us. You can email them to us. You can
upload
them through our client management website. You can also provide user information for the website where you purchased the reports and we'll download them for you. If you can think of another way to get them us, let us know and we'll accommodate you. We want to assist you in increasing your credit score, so we provide ways for you to get your credit report without an inquiry.
What is Credit Repair Plus client status page?
Credit Repair Plus client status page is part of the website we've created just for Our Clients. With it you can see your credit reports and the current progress achieved on your case file.
FAQs About the Law
Is credit repair legal?
Absolutely! It is your legal right to dispute items on your credit report. Credit Repair Plus exercises your legal rights pursuant to the Fair Credit Reporting Act, the Fair Credit Billing Act, Truth in Lending Act, and Fair Debt Collection Practices Act, as well as other applicable Federal statutes. Credit Repair Plus helps consumers with credit reports that contain information that is inaccurate, misleading, incomplete or unverifiable.
Be cautious of any company that claims it can improve or remove items on your credit reports that are 100% accurate and correct; they may be violating Federal Statutes. We recommend that you stay away from services that recommend that you attempt to obtain a new/alternate social security number, attempt to create a consumer credit profile under an EIN, or create "fake" credit profiles by intentionally reporting false data. These tactics can be illegal and/or unethical and, if caught, can result in significant personal liability.
What does the FTC (Federal Trade Commission) say about credit repair?
The FTC's concerns regarding credit repair agencies address the unethical individuals who have taken advantage of the rising demand of credit restoration by posing as credit repair companies on the Internet or via telemarketing, making promises they either couldn't keep or never intended to keep, and/or charging fees up-front and then vanishing after providing minimal and inadequate services – if any services at all. Several of these agencies encourage consumers to use unethical and even illegal tactics to clean their credit reports. In some cases, credit repair agencies attempt to disguise themselves as credible law firms to falsely persuade you that you have retained licensed professionals. In an attempt to discourage these unscrupulous credit repair opportunists, the government has imposed strict regulations on credit repair agencies. Overall, these regulations are a positive step towards protecting consumers from disreputable credit repair agencies. Unfortunately, disreputable credit repair agencies continue to exist on the Internet awaiting to be discovered by regulatory agencies and extinguished. To avoid their scams, you, as a potential consumer, should be wary of any credit repair agency that won't provide their complete address (beyond a Post Office Box), or fully identify who they are (including a verifiable identity). Consumers should avoid credit repair agencies that guarantee credit report results or guarantee the ability to remove a bankruptcy from your credit report. Their methods are usually unethical and/or even illegal and may subject you to personal liability.
Remember, it is your legal right to dispute inaccuracies on your credit report. Deal only with companies that are up-front about their fees and willingly share information with you. Be wary of any credit restoration service provider that appears to be a law firm, yet fails to provide the full name(s) of its attorneys or to clearly identify the state(s) in which they are licensed to practice. (A closer look may reveal that these service providers are merely credit repair agencies in disguise.) For more information on what to look for in credit report repair companies, and what to avoid, visit www.FTC.gov and view FTC Issues.
If you believe that you have been the victim of unethical, misleading and/or deceptive behavior by a credit repair agency or law firm providing credit restoration services, or any credit repair agency or law firm you have engaged has performed illegal or unethical acts in an attempt to restore your credit, you should report them to the FTC immediately and/or notify the State Bar Association in the law firm's respective state. Your cooperation in this regard will assist the FTC and respective State Bar Associations to find and eliminate the unscrupulous predators in an effort to provide a safer, fraud-free experience for everyone.
What is the Fair Credit Reporting Act?
The Fair Credit Reporting Act is the law put in place to protect consumers and regulate the consumer reporting agencies (CRAs). Commonly known as the FCRA, it was put in place to provide guidelines for the Credit Bureaus to make sure there is consistency between them, to make sure that accurate information is being reported, and to protect consumers from inaccurate information. It is also in place to ensure that credit bureaus and resellers of consumer reports provide information to creditors, insurers, employers, and others, do so with due regard for the confidentiality, accuracy, and legitimate use of such data. When those parties take adverse action on the basis of information in a credit report, they must identify the CRA that provided the report so that the consumer can learn how to get a copy to verify or contest its accuracy and completeness. Creditors and others may not knowingly provide false information to CRAs, which are required to maintain reasonable procedures to ensure the maximum possible accuracy of their data.
The FCRA also states that you are entitled to a free copy of your credit report if you've been denied credit, insurance or employment and request the report within 60 days of notice, or if you can prove:
You are unemployed and plan to look for a job within 60 days
You are receiving public assistance
Your report is inaccurate because of fraud
What is the Fair Credit Billing Act?
The Fair Credit Billing Act applies if you are a creditor billing customers for goods or services. The Act requires creditors to acknowledge consumer billing complaints promptly in writing and to investigate billing errors. The Act prohibits creditors from taking actions that adversely affect the consumer's credit standing until the investigation is completed, and affords other consumer protections during disputes. The Act also requires that creditors promptly post payments to the consumer's account and either refund overpayments or credit them to the consumer's account.
What is the Truth in Lending Act?
The Truth in Lending Act is federal law which sets minimum standards for the information which a creditor must provide in an installment credit contract. The Truth in Lending Act requires creditors who deal with consumers to disclose information in writing about finance charges and related aspects of credit transactions, including finance charges expressed as an annual percentage rate. The amount being financed, the amount of the required minimum monthly payment, the total number of monthly payments, and the APR must all be provided to the debtor prior to entering into the consumer credit contract. The Act also establishes certain requirements for the advertisement of credit terms. Overall, the goal is to enable you to make accurate comparisons of offers of credit.
What is the Fair Debt Collections Practices Act?
The federal Fair Debt Collection Practices Act or FDCPA prohibits certain debt collectors from engaging in abusive behavior. It covers debt collectors who work for collection agencies. It does not cover debt collectors that are employed by the original creditor (the business or person who first extended you credit or loaned you money). If a debt collector that works for a collection agency breaks the law, you can take steps to make sure it doesn't happen again.
What is Bankruptcy?
Bankruptcy is a federal court process designed to help consumers and businesses eliminate their debts or repay them under the protection of the bankruptcy court. Bankruptcies can generally be described as "liquidations" or "reorganizations."
Chapter 7 bankruptcy is the liquidation variety — property is sold (liquidated) to pay off as much of your debt as possible, while leaving you with enough property to make a fresh start. Chapter 13 is the most common type of "reorganization" bankruptcy for consumers — you repay your debts over three to five years.
Both kinds of bankruptcy have numerous rules — and exceptions to those rules — about what kinds of debts are covered, who can file, and what property you can and cannot keep. Bankruptcies, of any kind, stay on your credit report for 10 years. All decisions regarding bankruptcy should be considered very carefully and not taken lightly.
What is a Judgment?
A judgment is a court decision of money owed to a creditor or lender. When you do not pay a creditor back they can take legal action against you. One form of that is bringing suit against you for the money owed. They will take you to court to try and get the money back. If they win, then the court sets a judgment of what is owed and that judgment will report on your credit report for up to 7 years.
Now you can also get a judgment from a Civil Suit. If someone sues you for damages or money owed and wins they can get a civil judgment against you to get their money as well. This will also report on your credit reports for up to 7 years.
What is a Garnishment?
A garnishment is a legal proceeding where a creditor can obtain a judgment on a debt to collect the payment in installments or in full by seizing the debtor's assets (a bank account, their paycheck, etc.). The most common form of garnishment is wage garnishment. The most common debts for garnishments are: child support, Federal taxes, state taxes, unpaid judgments, student loans, court fines, and even credit card debt. If you do not pay your Federal Taxes or your Child Support they will submit the documentation to the court and get a court order and send it straight to your payroll office. Next thing you know your next paycheck is substantially less than expected.
What is a Lien?
A Lien is a "claim" or hold on a property to secure repayment of a debt or satisfaction of a debt. Liens can be consensual or not. Some liens are consensual because of a contract between the debtor and the creditor. Examples of consensual liens are: Mortgages, Car Loans, and Secured Credit Cards. An example of a Non Consensual lien is a tax lien. If you do not pay your Federal taxes, the IRS will put a lien on your property. This ensures the government that when you sell your home they will get paid first.